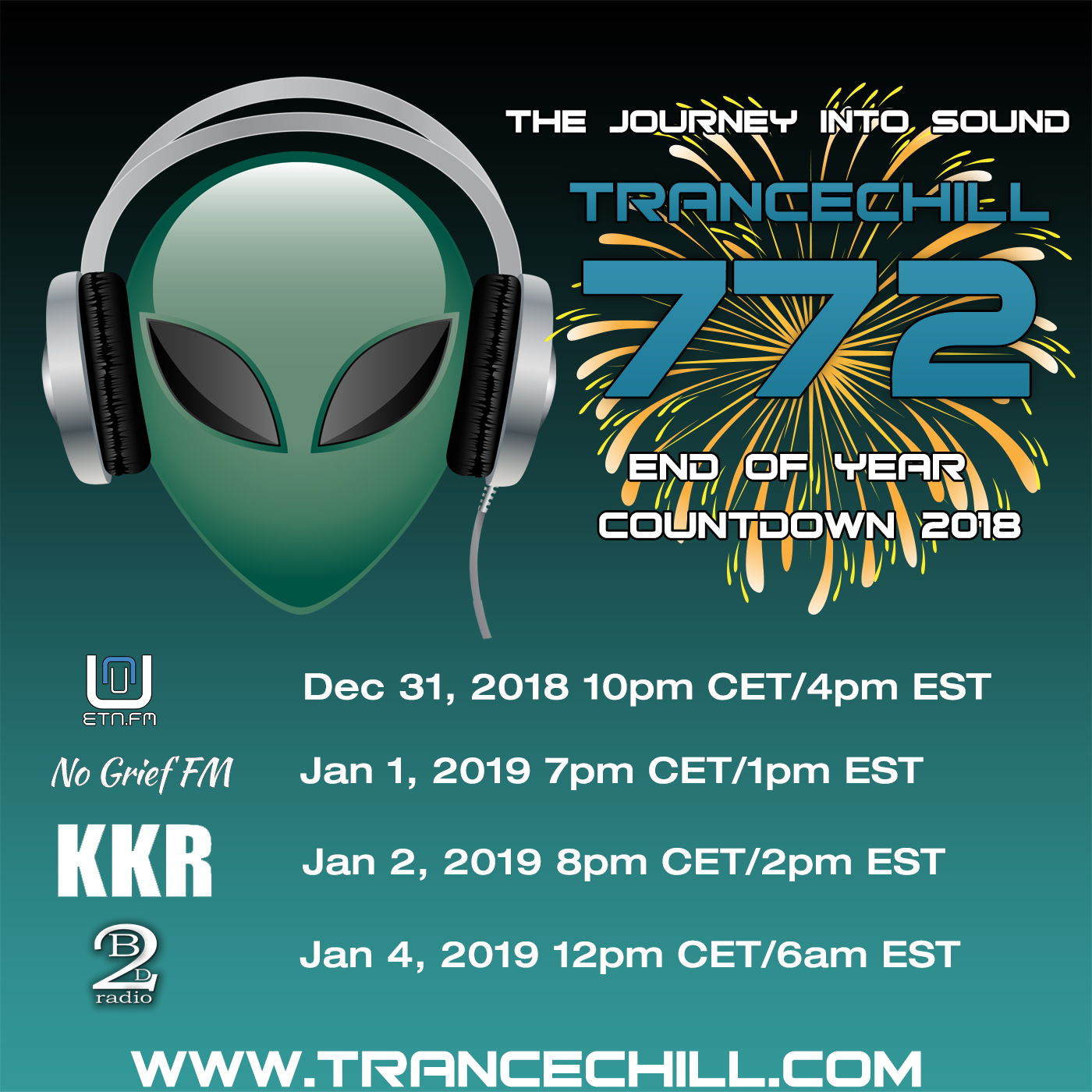 Published by skoen on 31.12.2018
The end of year countdown was first aired on ETN.fm on December 31st, 2018 at 10pm CET/4pm EST.
TranceChills End Of Year Countdown 2018 (138bpm Uplifting Trance)
20. Giuseppe Ottaviani and Paul van Dyk ft. Sue McLaren – Miracle (OnAir Extended Mix) [Black Hole]
19. Veselin Tasev – I Need You, I Want You, I Love You (Extended Mix) [TCD]
18. Maes-tro & Christine Tran – Ocean Tides (Giuseppe Ottaviani Remix) [405 Recordings]
17. Ram & Ciaran Mcauley – Serengeti (Extended Mix) [Grotesque]
16. Gai Barone – Shiny (Danny Eaton Remix) [Pure Trance]
15. Miguel Angel Castellini – God Of Miracles (Liam Van Hoven Remix) [Sundance]
14. DelAir – Walhalla (Original Mix) [Beyond The Stars]
13. Alternate High – Behind The Unknown (Original Mix) [Sundance]
12. W!SS – Memories (Extended Mix) [State Control]
11. Standerwick & HALIENE – Deep End (Shinovi Extended Remix) [WAO138]
10. Andy Moor & Somna & Diana Leah – There Is Light (A.R.D.I. Extended Remix) [AVA White]
9. Phillip J ft. Kim Casandra – Falling Milestone (Extended Mix) [Amsterdam Trance]
8. FloE & J. Puchler ft. Robin Vane – Alive (Derek Palmer Remix) [Entrancing]
7. Cold Face – Homa (W!SS Remix) [Sub.Mission]
6. Mark Sixma & Emma Hewitt – Missing (Jorn Van Deynhoven Extended Remix) [Armada]
5. Roman Messer ft. Christina Novelli – Fireflies (Jorn van Deynhoven Extended Remix) [Suanda]
4. Andain – Promises (Chris Schweizer Extended Remix) [Black Hole]
3. James Dymond & Susana – Love You Are Made Of (Extended Mix) [Amsterdam Trance]
2. Sunlounger feat. Zara – Lost (Roger Shah Extended 2018 Update) [Armada]
1. The Thrillseekers with Stine Grove – How Will I Know (Extended Club Mix) [FSOE]
Check out the episode on iTunes, TuneIn, other podcast services, on NoGrief FM this Tuesday, Kell's Kitchen Radio this Wednesday, Beats2Dance – Trance this Friday, or in the player below:
The next episode will first be broadcasted on ETN.fm at 7 January 2019 at 22:00 CET/4pm EST.